GMTapa
Palace Heights Houseboats
The Floating Palaces
GMTapa & Sons
Palace Heights Group of Houseboats
Peer Taki, Mirza Bagh, Nagin Lake
Srinagar Kashmir 190003, India
(194)246-1395 email: kashmir@himalayantours.com
This unique Kashmiri tradition of gracious waterside living originated with the first British residents of Kashmir. In order to prevent them from assuming power, the Maharaja of Kashmir forbade the British to own land; their solution was to build their residences on water, with the houseboats evolving from modest floating homes to veritable floating palaces.
These hand-built houseboats, boasting all the amenities of 5-star hotels, are one of Srinagar's stellar attractions. These enchanting residences range from 60 to 150 ft. long, are 15 to 20 ft. wide and each is unique. There are spacious four-bedroom boats and cozy two-bedrooms; all feature attached bathrooms, electricity and modern plumbing. The cedar interiors are intricately carved and display the consummate artistry of Kashmiri craftsmen. The furnishings include embroidered native rugs and fabrics, local objects d'art, and solidly comfortable Victorian and Edwardian furniture. These luxurious boats also feature rooftop sundecks from which to take in the Himalayan views and enjoy the brisk fresh air. A houseboat holiday is also an unusual gourmet experience. Our chefs will prepare the finest Kashmiri dishes, including barbecued lamb kabobs marinated in fragrant herbs), Rista (juicy, delicately seasoned lamb meatballs), Tabaq maz, fresh saffron rice and Goshtaba, dishes
typically prepared only as part of the special Wazwan celebrations. Our chef will also prepare Western style meals to order. Every meal is a festive occasion with the finest local dishes served in classic British style - on linen and lace, with silver and china. Sit back and enjoy desert, firni(a special dessert pudding made of rice,raisins, nuts, saffron and milk) and a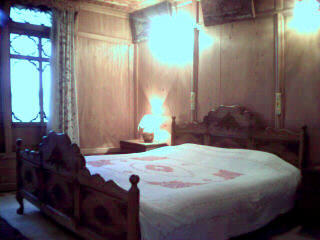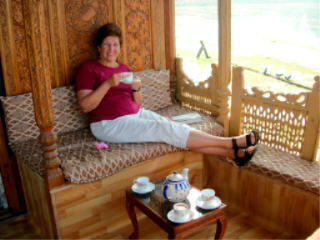 pot of Kahwa (our local green tea).
SRINAGAR/KASHMIR:
The Gateway to Paradise
The soft murmur of the river Jhelum gives us a glimpse of the easy-paced lifestyle of Srinagar. Its waters have moved gently for 1400 years through the center of the Kashmiri capital. Each morning the light splashing of the river vendors selling flowers, fruits, and vegetables announce the beginning of daily business. Dal lake, in the early sunshine, reflects the gaily decorated houseboats; smells of Kashmiri tea and biscuits drift across the lake, and all the delights of a holiday in Srinagar are fully awakened. The city's bazaars are opened and shopkeepers show their handicrafts. The shikaras, (Kashmiri style gondolas) Glide smoothly through the Jhelum, under nine picturesque bridges, each a rainbow of colorful people; women in brightly embroided skirts, jeweled in silver and gold, others in somber black or brown and heavily veiled, men in vivid caps and turbans. The rippling waters of the lake reflect the magnificent terraced gardens around it. Connected to a network of canals and the river Jhelum, the Dal is the main thoroughfarefor luxury boats. Further down is Nagin Lake, popular for its water-skiing, swimming, diving and sailing. It is on these enchanting lakes that our houseboats are moored. Here vendors glide up to your front doorstep with floating stores of fruit, flowers, shawls, jewelry, carpets, etc.
GMTapa & Sons
Palace Heights Group of Houseboats
Peer Taki, Mirza Bagh, Nagin Lake
Srinagar Kashmir 190003, India
(194)246-1395
email: tourinfo@himalayantours.com