Tibet with India & Nepal
16 Day Tour
---
Day I USA/DELHI:
Welcome aboard your flight to Delhi.

Day 2 DELHI:
Arrive in Delhi, our first stop of Tibet tour. After a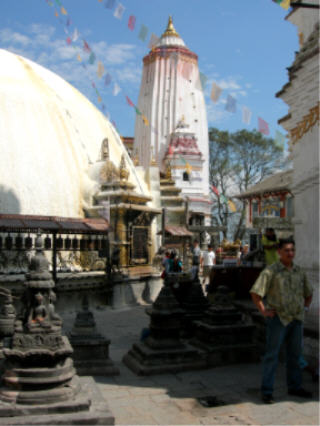 traditional Indian Garland welcome
you'll be escorted to Hotel Connaught/ Singson hotel.

Day 3 DELHI:
Sight-seeing tour of New Delhi, Connaught Place, Jantar Mantar, Parliament house, Presidential Palace and the Raj Path with India Gate and Qutab Minar Tower.

Day 4 DELHI/JAIPUR:
This morning you'll leave by train/coach to Jaipur, check into Hotel Trident/Jaipur Palace. This afternoon our sight-seeing tour includes City Palace, Albert Museum, Jantar Mantar Observatory and the exotic Hawa Mahal. Shop in the bustling bazaars of Pink City.

Day 5 JAIPUR/AGRA:
Today travel in the royal style of Akbar to the Amber Fort atop festive Indian Elephants. This afternoon enroute to Agra we'll stop at Fatehpur Sikri, the deserted Sandstone City built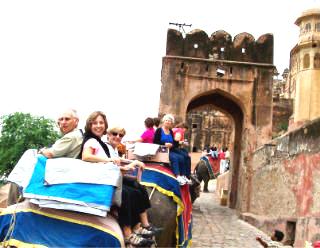 by King Akbar. This imperial complex of forts, pal-aces, mosques and temples was short lived and today is a haunting testament of that era. In Agra we will visit the world famous breathtaking Taj Mahal and the imposing Agra Fort, where the builder of the Taj, Emperor Shah Jahan had to spend his final days in captivity. Hotel Howard Park/Trident/Ashok.

Day 6 AGRA/DELHI/KATHMANDU:
After a sunrise visit of the Taj Mahal we'll return to Delhi and connect to our flight to Kathmandu, transfer to Hotel Del, Annapurna/Royal Singhi.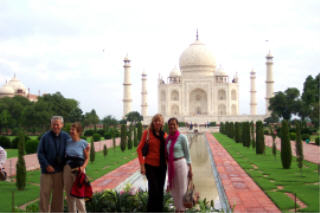 Day 7 KATHMANDU:
We have two sight-seeing tours to explore the legendary sights of Kathmandu, Patan, Bhaktapur and Pashupatinath while giving us the opportunity to acclimatize for our Lhasa trip.

Day 8 KATHMANDU/TOTAPANI/ ZHANGMU:
After breakfast, we leave for Totapani, the entry point on our Tibet Travel. In case of road condition we may trek for about 3 hours on the other side of the border, stop at Zhangmu Hotel.

Day 9 XEGAR:

After an adventurous journey, we'll stop at Xegar.

Day 10 SHIGATSE:
Drive to Shigatse, the traditional seat of the Lama, the most important in the Tibetan tradition.

Day 11 GYANTSE:
Our journey ends at Gyantse, the site of the Palkhor and Choda Stupas.

Day 12-14 LHASA:
We have 3 days in Lhasa to explore the famous Potala Palace, Sera & Drupyong Monasteries that this region is known for. We'll have ample time to meet the head Lama and observe the ritual-chanting monks. Included are Sakya, Shalo, Jokhang Norbulinga and much more. Hotel Yak/Himalaya hotel.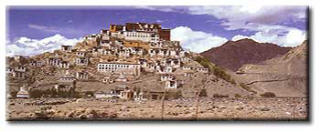 Day 15 LHASA/KATHMANDU/DELHI:
Flight to Kathmandu, on arrival change to Delhi flight. Free time for last minute shopping in preparation for return home.

Day 16 DELHI/USA/CANADA:
Early morning departure from Delhi, arrive home same day.




Departure dates: 2013 Apr 27 May 11 25 Jun 8 22 Jul 6 27 Aug 10 24 Sep 7 21 Oct 12 26
Tour cost:
NYC $5984.00 per person twin sharing
Single supplement $ 2372.00

Total Taxes & Fees 757.68
Airline Tax and fees summary:564.20YQ 56.40YR 33.40US 5.50YC 7.00XY 5.00XA 2.50AY 7.30WO 31.38IN 26.40YM 14.10CN 4.50XF

Note:High season air surcharge additional
$575.00 Jun1-Aug & Dec 1-24
Airport and security taxes not included
Tour cost includes:
+Round trip economy coach airfare from NYC
+Hotels with daily breakfast
+Transfers to and from airports to hotels
+All long distance transportation, Nepal to Lhasa
+ Baggage handling
+All sight-seeing tours as per itinerary +English speaking guide.


Add-on EconomyCoach Airfares If you are traveling from a city other than New York or Chicago, Please call (800) 421-8975 Mon-Fri 9.30AM-6.00 PM. ET.